Rapid results
Medicspot is a CQC regulated provider of healthcare services. We provide Covid testing for companies with rapid 24 hour lab turnaround times. This is significantly faster than other private labs or the NHS which can experience turnaround times of up to 5 days.
Covid-19 PCR swab
This is the only validated method in the UK to check for a current Covid-19 infection. This is a CE certified self-swab kit where your employee performs the swab themselves with the guidance of the enclosed instructions.
Once the swab has been performed, the kit is then sent back to our lab where it is analysed. The results are then normally available within 24 hours of the swab arriving at the lab.
Important: Blood (antibody) or saliva tests are not validated and can be inaccurate - you should not rely on such tests to manage your workforce.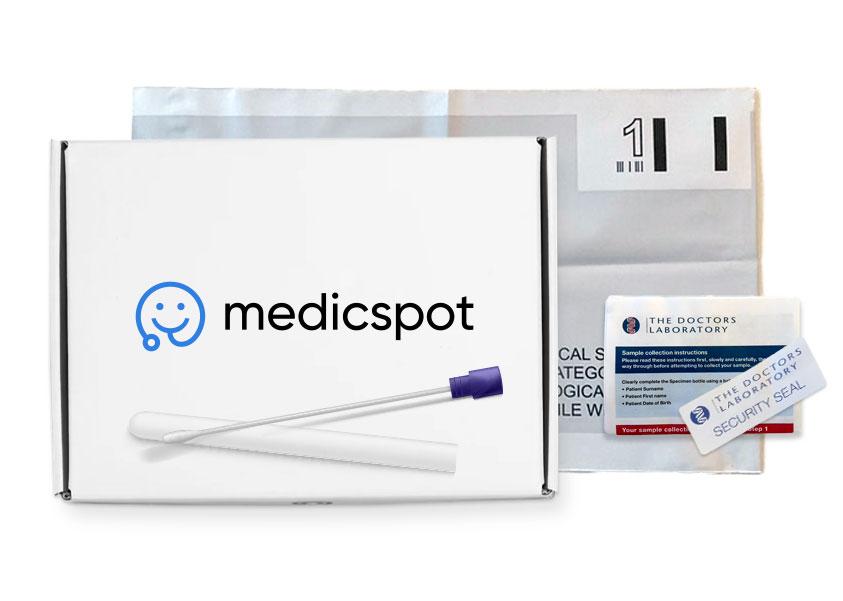 Testing for companies
Tests are returned to our lab by dropping them off at one of our Express Pharmacies or via courier. Employees then receive their results by email.
Regular planned testing
Do you need daily, weekly or monthly testing for your staff? We can support you with fast, convenient and affordable Covid PCR tests.
Ad hoc testing
You may want to test if the need arises, such as when:
An employee develops symptoms of Covid-19
An employee comes into close contact with someone with Covid-19
An employee has had a positive result and you require testing for the rest of the workforce
Other situations noted in your Covid-19 policy
What options are available?
Pay As You Go (PAYG)
Buy Covid-19 PCR swab tests for your employees as you need them. You can have the swabs sent to your employees or to your workplace (1 day turnaround time). Alternatively, your employees can pick up their kit from their closest Medicspot Express Pharmacy.
Bulk discounts
Bulk-buy your Covid-19 sample kits to ensure you always have them when required. You can keep them on-site at your workplace and distribute them as you see fit to your employees. If easier, we can keep the kits at our warehouse and we will deliver to your employees as required (next day delivery, £10 postage per order).
Prices start from £119.
Last updated 28 September 2020
Respond to outbreaks
Medicspot helps you to quickly and easily test all staff who had 'close contact' with an infected person. You can then:
Request staff to self-isolate if they are Covid positive
Allow staff to return to work if they are Covid negative
Positive test results
If staff test positive for Covid, follow your sector-specific action card:
Types of actions you may need to put in place include:
Enhanced hygiene, hand washing and cleaning practices.
Implement a test and trace system in your company.
Increase staff awareness of your preventative measures.
Limit access or temporarily close parts of your workplace.
Multiple cases of Covid
If you have multiple cases of Covid in the workplace, you should contact your local health protection team to report the suspected outbreak. They will then:
undertake a risk assessment
provide public health advice
where necessary, establish a multi-agency incident management team to manage the outbreak
Negative test results
Staff do not need to self-isolate if their test results are negative, as long as:
everyone they live with who has symptoms tests negative
everyone in their support bubble who has symptoms tests negative
they were not told to self-isolate for 14 days by NHS Test and Trace
they feel well – if they feel unwell, they should stay at home until they're feeling better
Back to work
Start by assessing all job roles and ensure staff work from home if they can. Follow the government guidelines to create a Covid-secure workplace.
Covid testing programme
The government suggests to companies that they are clear on the following points before establishing a Covid testing policy:
Who the testing will cover (i.e. employees, contractors)
What the focus of the programme is (i.e. symptomatic or asymptomatic)
How often staff will be tested
Appropriate facilities for carrying out the tests
Which test should be used
Arrangements for any individual who does not wish to be tested
How the employer will use test results
The compatibility of the programme with its legal responsibilities to staff
The affordability of implementing a testing programme